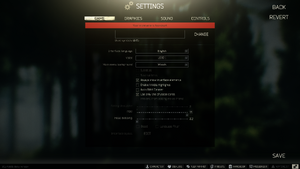 Nickname

Nickname can contain 1 - 14 letters (A-Z, 1-0, -)

Interface language

Chinese
English
French
German
Portuguese
Spanish
Spanish - Mexican
Russian

Voice (Depending on PMC Character faction)

BEAR 1
BEAR 2
USEC 1
USEC 2
USEC 3

Main menu background
Subtitles (Not available)
Tutorial hints (Not available)
Always show interface elements

Enable/Disable - Shows the item hotbar in the top center of the screen

Enable NVidia Highlights (Not available)

Enable/Disable - Automatically records gameplay highlights

Auto RAM Cleaner

Enable/Disable - Automatically purges the RAM

Use only the physical cores
Prevent from adding me as friend (Not available)
Aiming deadzone (Not available)
FOV
Head bobbing
Blood (Not available)
Language filter (Not available)
Interface layout (Not available)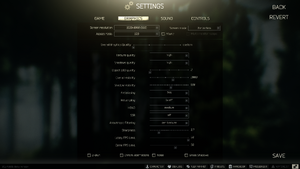 Screen resolution

Supported screen resolutions

Screen mode

Fullscreen
Borderless
Windowed

Aspect ratio

Supported screen aspect ratio

VSync
Multi-monitor support (Not available)
Overall Graphics Quality
Texture quality

low
medium
high
high + texture streaming

Shadows quality
Object LOD quality
Overall visibility

400
1000
1500
2000
2500
3000

Shadow visibility
Antialiasing
Resampling

1x off
0.5x downsampling
0.75x downsampling
2x supersampling
4x supersampling

HBAO

off
low
medium
high
very high
colored very high

SSR

off
low
medium
high
ultra

Anisotropic Filtering
Sharpness
Lobby FPS Limit
Game FPS Limit
Z-BLur
Chromatic aberrations
Noise
Grass Shadows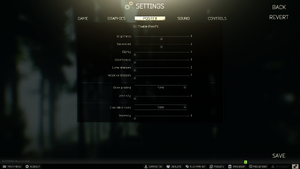 Enable PostFX
Brightness
Saturation
Clarity
Colourfulness
Luma sharpen
Adaptive sharpen
Color grading

None
K506
Zabid
Cognac
Edwards
Cheese
LateGoose
Bread
Montreal
Feather
Jason
Fahrenheit
Owl
Chillwave
Albert
Bayswater
Atlanta
Felicity
Stefano
Boost
Emilia
Doze
Clifden
Blender
Tokyo
Walk
Olive
Hotshot

Intensity
Colorblind mode

None
Deuteranopia
Tritanopia
Protanopia

Intensity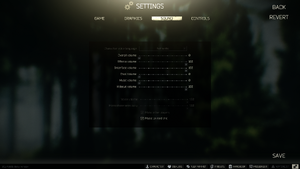 Character voice language (Not available)
Overall volume
Effects volume
Interface volume
Chat volume
Music volume
Hideout volume
Voice volume (Not available)
Microphone sensitivity (Not available)
Mute other players (Not available)
Music on raid end
Main article: Controls
The default keybinds for Escape from Tarkov.
The PostFX settings had been announced over social media on the 10 April 2020. [1]
The update history is for the most part undocumented.
27 April 2020 - Patch 0.12.5.6924:

Introduced the PostFX settings to the game.
NVidia Highlights disabled.

1 May 2020 - Patch 0.12.5.7070: The PostFX - Brightness effect range is reduced by half.
Community content is available under
CC-BY-SA
unless otherwise noted.